Sidra/Cider Gourmet de calidad en formato botellín 100% manzana de sidra sin concentrado
EXNER CRAFT APPLE CIDER es la sidra gourmet de calidad, elaborada 100% con manzana de sidra de variedades ácidas seleccionadas en nuestra finca de Asturias, Finca Gallinal. No procede de concentrado, sin gluten, elaborada siguiendo métodos tradicionales de cosecha y fermentación.
La bebida que mucha gente soñaba encontar como alternativa a cervezas y vinos.
Envolvente, seca, equilibrada de burbuja fina. En nariz tiene intensos aromas predominando los herbáceos y recuerdos balsámicos. En boca es muy ligera con un perfecto equilibrio entre el dulce y ácido propio de la variedad. Versátil, ideal para beber en copa, como aperitivo, entre horas o acompañando la comida. Marida especialmente bien con platos salados, mariscos y quesos.Botellín de 33 cl.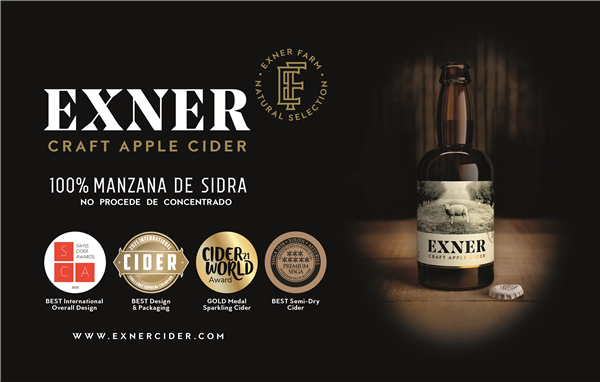 Best suited for gourmet / deli shops and selected bars and restaurants, EXNER CRAFT APPLE CIDER is a Quality based artisan cider made from a selection of sharp cider apples from our orchard in Asturias, northern Spain. Authentic. 100% pure juice from 100% cider apples. Natural. Not from concentrate. Gluten Free. Raw. Directly from our orchard Finca Gallinal, following traditional harvesting and fermentation methods. Refreshing. Fine, dry, balanced, slightly sparkling. Intense aromas coming directly from the varieties. Versatile. suited for drinking alone or mixed in cocktails. Food pairing. Savoury dishes, seafood and cheese. Case of 12 glass bottles of 33 cl.
ROXMUT is the UNIQUE and ONLY cider vermouth. Prodeced in Asturias, prime cider making region. Made with freshly-pressed cider apples fermented, barrel aged. You would be surprised and your clients as well.