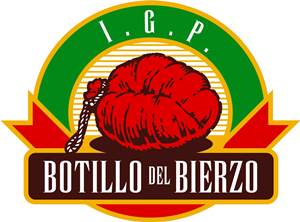 REGULATING COUNCIL OF THE PROTECTED GEOGRAPHICAL INDICATION OF THE BOTILLO DEL BIERZO.
CERTIFICATION AND PROMOTION OF THE BOTILLO DEL BIERZO IN REGISTERED BRANDS
This is the king of El Bierzo cuisine. A typical product, traditionally prepared using pork rib and tail, according to the recipe passed down from generation to generation. The whole of its preparation process is protected by the "Botillo del Bierzo" Regulating Council.
The raw material. submitted to a strict control, is carefully selected and minced by hand to obtain evensized pieces. Next, it is marinated in 100% natural inqredients: paprika, salt and garlic, and then stuffed into large pieces of pork caecum. After being tied, the botillos are hung up in natural smoking sheds, where the curing process is started, using holm oak and oak log braziers. Curing is completed with a period in natural drying sheds, where the product achieves its full aroma and flavour.
Once they are ready to be sold, the botillos are labelled with the "Botillo del Bierzo" Regulating Council stamp, which guarantees the quality of the product. AII the Botillos del Bierzo must bear a numbered label with the Regulating Council logo.