Lasagna bolognese 3 Kg, ideal for caterings, restaurants and butchers. Ready to grill and serve
The Bolognese lasagne, known throughout the world, is an icon of traditional Italian cuisine. It is a very popular and current dish that appeals to audiences of all ages and especially the youngest ones. Combine 3 layers of meat sauce, tomato and onion, 5 layers of fresh pasta "al dente" and 2 layers of béchamel sauce, covered by a layer of pure grated emmenthal cheese that gives off an irresistible aroma.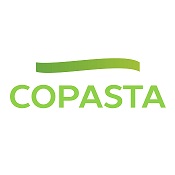 COPASTA has a strong position in the national market as chilled lasagnes manufacturer. Natural and high organoleptical quality lasagna in formats from single serving, family pack as well as larger trays (3 and 5Kg) for resturants and butchers.
Address: C/ Alquería, 47
Town: Beniparrell
Postcode: 46469
County: Valencia/Valéncia
Region: COMUNIDAD VALENCIANA
Country: España
Phone number: +34 961 213 094
Fax: +34 961 213 094
E-mail address: comercial@copasta.com
Pavilion: 6
Stand: 6H12-30
Sector: FOOD